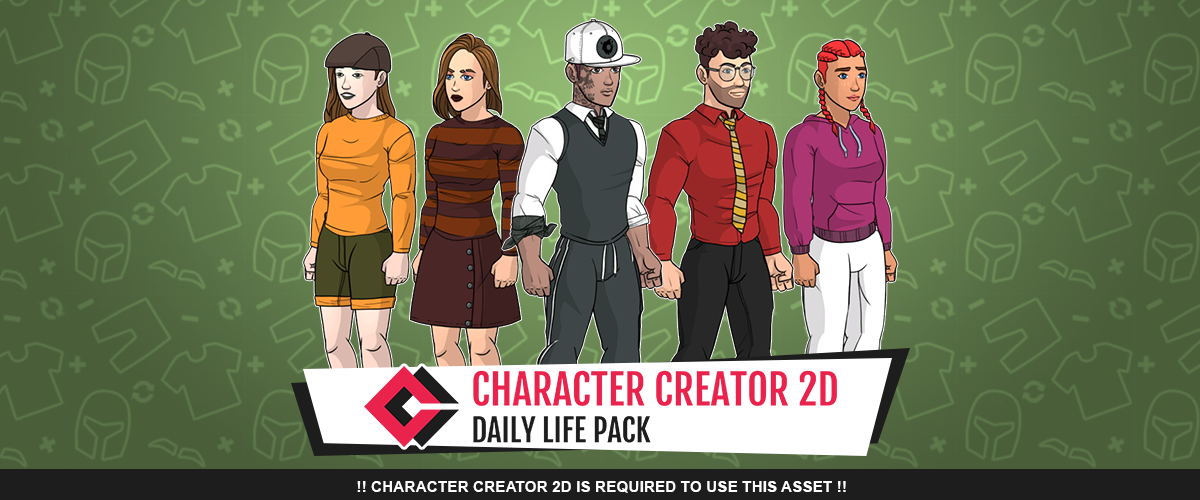 Daily Life Pack for Character Creator 2D
A downloadable asset pack
Get this asset pack and 8 more for $100.00 USD
View bundle
!! IMPORTANT: Character Creator 2D is required to use this asset !!

This asset contains additional themed parts to be used with Character Creator 2D.
Create and customize 2D characters easily for your game. With Character Creator 2D you can create anything from simple peasants to epic heroes. Equipment is colorable, allowing more freedom and creativity when creating your characters.

Character Creator 2D Features:
Create 2D humanoid characters
Colorable equipment
Adjustable body sliders
Facial expressions/emotions
Animations included
Character creation UI
Export to PNG
Add your own parts and equipment
Character Creator 2D come in two forms: Unity Package and Standalone version.
You will get access to both versions if you purchase on itch
Unity Package
Asset Store | Unity Forum | Documentation
Character Creator 2D was mainly designed to be used in Unity.
In Unity, you can equip and color every part at runtime. The package comes with a UI to create and save your character in the editor, or you can modify and use the UI as character creation in your game.
Unity Specific Features:
Runtime character customization
Save as Prefab
Save as JSON
Export to PNG
Standalone
Standalone Forum | Documentation
Due to popular request, Character Creator 2D also available as a standalone. Which you can use without Unity.

You can export your characters as PNG, either as singular image or as animated sequence. You can use the exported images in your game engine of choices, make a portrait/avatar of your characters, or you can use this to generate characters for your next DND campaign.
For standalone add-on packs, install or put the files into the "Packs" folder under your base Character Creator 2D installation.
Purchase
Get this asset pack and 8 more for $100.00 USD
View bundle
In order to download this asset pack you must purchase it at or above the minimum price of $18 USD. You will get access to the following files: